For tickets to "Opera on a Summer's Eve" click HERE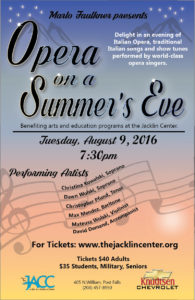 The third annual "Opera on a Summer's Eve" on Tuesday, August 9th at 7:30 p.m. features Italian opera and traditional Italian songs as well as show tunes performed by world-class opera singers. The performance is a benefit for the Jacklin Arts and Cultural Center. As an added attraction, Mateuz Wolski, concertmaster of the Spokane Symphony and international concert violinist, will join sopranos Christina Kowalski and Dawn Wolski; tenor, Christopher Pfund; and, baritone, Max Mendez accompanied by David Demand on the grand piano. Marlo Faulkner returns as Mistress of Ceremonies. Michael McGivney is lighting director.
Tickets are $40 for adults, $35 for seniors, military and students (with ID) and are available online www.thejacklincenter.org
Knudtsen Chevrolet returns as the premier sponsor. Performer underwriters include Charles and Dorothy Clock, William Ladner, Susan and Duane Jacklin and Caroline Crollard.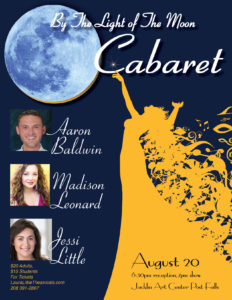 By the Light of the Moon Cabaret! 
On August 20, 2016, three Coeur d'Alene High School alumni, will be reunited in song to perform for the community! Aaron Baldwin (2009), Jessi Little (2009), and Madison Leonard (2010) will be delighting the audience in By The Light Of The Moon Cabaret! Accompanied by pianist Beth Taylor, the Cabaret is filled with story-telling songs, both witty and touching, interlaced with entertaining anecdotes.
Aaron, Jessi and Madison thrived as they resided in Hayden and Hayden Lake and performed together throughout high school.  Some of their performances of that time include the shows Grease, Guys and Dolls, and Joseph and the Amazing Technicolor Dream Coat. Taking their talent to the next level, pursuing performing art degrees in college, Jessi graduated from TCU with a Musical Theatre Degree and Madison completed her undergraduate study at Pepperdine University, recently graduating with her Master's of Music Degree from Northwestern's Bienen School of Music.  Aaron is employed in Boise, Idaho and continues to enjoy performing as time allows.
By The Light Of The Moon Cabaret is sponsored by John Beutler of Century 21 on August 20, Reception at 6:30pm, show at 7:00 pm
Jacklin Arts Cultural Center, 405 N William Street, Post Falls, Idaho 83854.
Tickets on sale!  Adults $20 Students $15.
Purchase tickets Here.