The Friends of The JACC Present
~ A Taste of Broadway~ Benefit Dinner
Thank you to all the guests who have registered to join us on March 29, for an evening of elegance and entertainment at The JACC for our annual benefit dinner in support of arts and culture in our community.

---
Diane Higdem's Photography in the Gallery
Artist Open House
Thursday, March 16, 5-7 PM
Friday, March 24, 5-7 PM
Saturday, April 8, 5-7 PM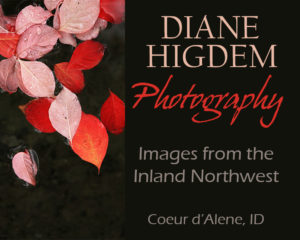 BEHIND THE LENS
Born in Canada and raised primarily in Montana, Diane's home base these days is north Idaho, a really underestimated place. She combines her life experiences and fine art upbringing to capture lifestyle portraits of people and nature in its elements. Her professional work includes magazine, newspaper, various print media and non-profit organizations. And there's always everybody and everything in between. Aside from writing about herself in the third person, she likes to throw the kayak in just about any body of water, bringing her camera along and taking any chance possible to get out and smell the woods- sharing it with you; reminding her of the importance of carrying her camera everywhere with humor, compassion and curiosity. The key here, folks, is to do so in such a way so that you experience it the way she does.
Diane's show runs through April 9. Art purchased during the show may be collect on Sunday, April 9, 9 – 11 AM or by special arrangement. More information about Diane's photography and spirit may be found by visiting her website HERE. 
Nine Pint Coggies
April 8, Saturday
7:00 P.M., doors open at 6:00 P.M. Open seating.
Admission $10 purchase tickets HERE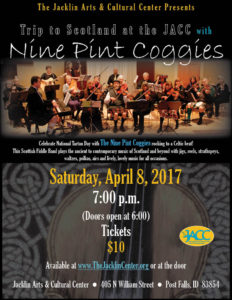 Post Falls High School Advanced Artist Show
April 14 and 27