---
---
Living Through the Fire
March 10 & 11
7:00 pm show at The Jacklin Arts and Cultural Center, 405 N William St, Post Falls, ID
General Admission/Open Seating. Purchase tickets HERE 
The Coeur d'Alene Summer Theatre is very proud and excited about our project "CST on the Road", a program designed to bring a merge of art and education to elementary schools in the North West.  It consists of professional actors that travel to schools and preform a 45 minute musical that is education based. This year's show, Living Through the Fire, is about the big burn of 1910.
​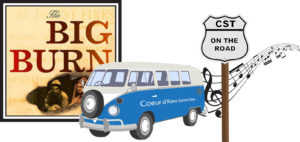 Show Synopsis: When 5th-grade McKenzie is assigned to research Edward Pulaski for a school report, she happens upon his daughter Elsie's diary. Through the diary, she re-lives the terrifying and heroic events of the "Great Fire" of August 1910 that ravaged the Silver Valley of Northern Idaho. McKenzie becomes Elsie (played by the same actor) as she anxiously documents the fate of the town of Wallace in her diary – in particular her father Edward's legendary efforts to save his forest service troops from the devastating fire. Through the town's trials, she comforts her friend Mary even as she herself is terrified. After Edward returns a hero, she – and McKenzie in turn – realize the value of teamwork, family and self-sacrifice.
Dinner Cabaret
March 17 & 18
Join us for an evening of fine wine, exquisite food, and prestigious entertainment. Tickets include a three course "European Inspired" dinner created by the culinary team of Mangia Catering, three-act professional cabaret entertainment, tax and gratuity. Beer and Wine available for purchase at additional cost!
7:00 pm Show (6:00 pm cocktail hour) at The Jacklin Arts and Cultural Center, 405 N William St, Post Falls, ID
Price: $55.00 + processing fee & sales tax. Purchase tickets HERE
General Admission/Open Seating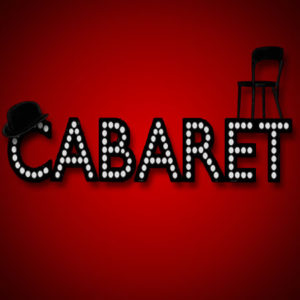 Show Synopsis: Observe a couple taking their dream trip to Europe before the birth of their first child. As they travel to Italy, Austria and Ireland, they experience the requisite culture-shock, but also fall more in love by the end of their journey. Four actors will play multiple characters in this comedic and silly dinner cabaret.
Featuring: Sarah Dahmen, Jadd Davis, Kasey Davis & Henry McNulty
John Goulart
March 24
Presented by Friends of the Guitar Hour. Tickets are $30 and available HERE . 7:30 P.M. show. John Goulart now enjoys the reputation of being one of Canada's finest guitarists. He first came into prominence in 1992 after winning the First Prize in the inaugural Great Lakes International Guitar Competition.
In that same year he was also a finalist and prize-winner in the Guitar Canada and Guitar Foundation of America Competitions. John's other international prizes include the 38th annual Tokyo Guitar Contest and the Alirio Diaz Competition in Venezuela. Since then, his concerts and recordings continue to receive praise from critics, audiences and fellow musicians across the country.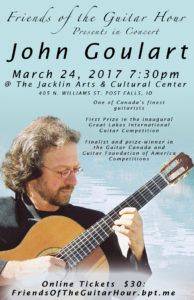 April 8, Saturday
7:00 P.M., doors open at 6:00 P.M. Open seating.
Admission $10 purchase tickets HERE